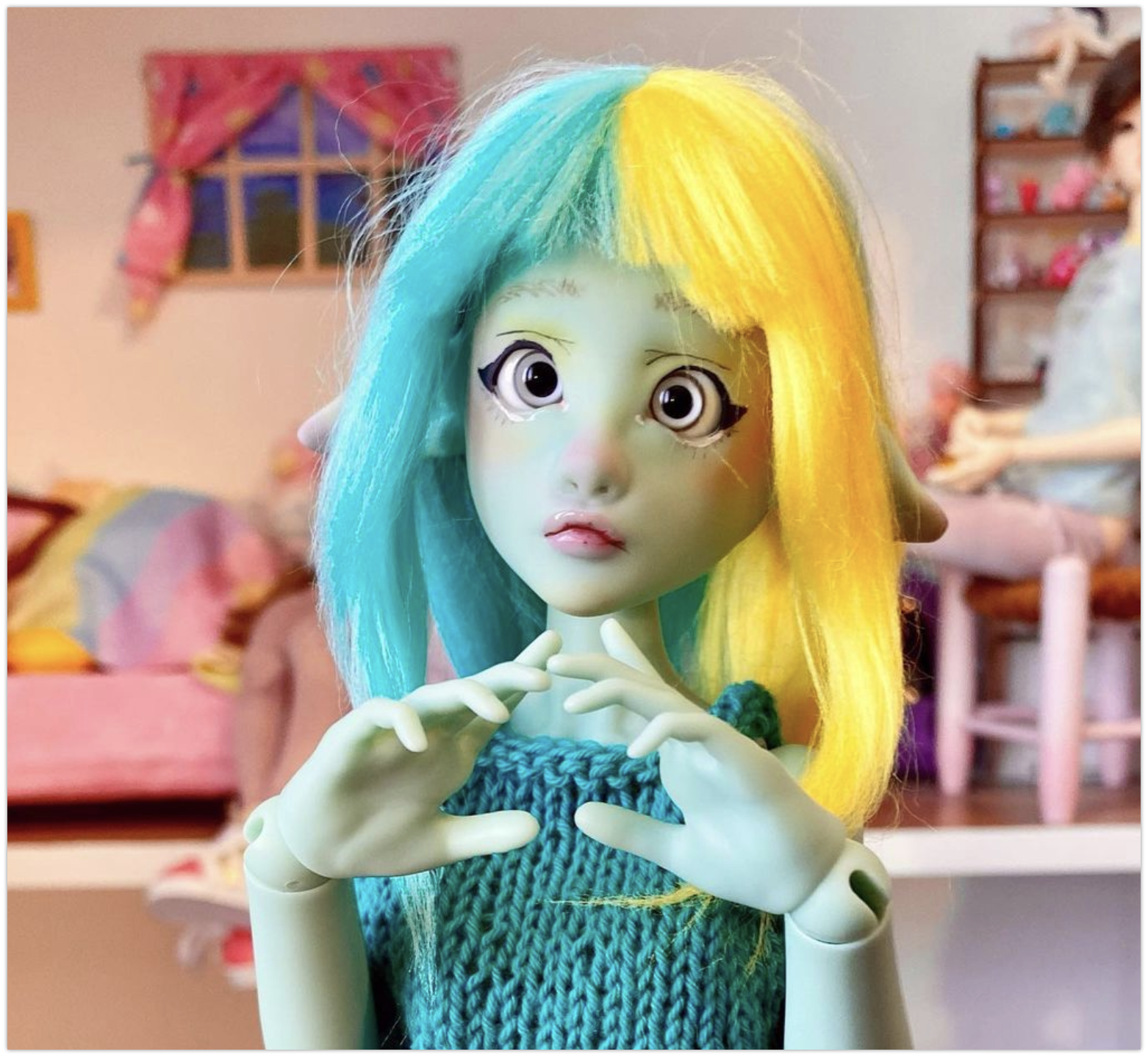 Hollow Wigs, Eyes and Clothes!
The Hollows are in production now, and on track for an end of May arrival to me! That means, it may be a good time to start thinking about wigs, eyes, accessories and clothing. 
I thought it would be fun to share some favourites for Hollow, so you all can find great stuff to bring yours to life. 
WIGS
This probably goes without saying, but Pablo from Hopeful Creation makes wonderful wigs for Hollow. And in many, many styles. He loves getting reference photos so he can bring your vision to life.
The wigs are made from viscose, which is a fibre i just love. It's plant based and eco friendly, soft and look great in photos too! some fibre can be too shiny and stiff. Some wigs can be too thick. Pablo makes a really well balanced, beautiful wig. 
Hopeful Creation's Hollow wigs typically go for $38 USD, depending on what you want. To order, you just message him through the Instagram linked above. He'll be happy to hear from you.
EYES
Hollow fits 10-12 mm eyes, and smaller 14 mm. I think 12 suits her best though. Choose round eyes, not oval. These sit more nicely in the eye well.
I haven't forayed into artist eye makers yet. But I really like these ones for the Hollows. 
ACCESSORIES
I have gotten so many inquiries about Waverly's glasses! These were modelled after my own glasses by the talented Brenda from StellarRevolutionDesigns. You can buy them directly from her still on her website. 
For shoes, most 1/3 scale flat shoes will work. An easy win are those 1/3 converse type sneakers. They fit perfectly. 
MoriTime has Dolfie Dream sneaks which match up with Hollow's foot measurements well. They have as lot of really cute styles too!
CLOTHING
Goodbye You, Hello Me has Roze Heln clothes which fit Hollow quite nicely. they are slightly comfier fit on Hollow than Heln, but they are typically nice and high waisted. I recommend the shorts and tops, as the dresses and rompers will be too short. 
Glooden BJD Clothing on Etsy has also been working with me on custom pieces for Hollow. She has Hollow's full measurements, and will be able to make clothing for your girl. She has really beautiful stuff in her etsy. Don't miss out!
CottonHoney dresses and skirts fit Hollow like a Dream. They're aimed for thicker MSDs and they offer a lot of great styles. The finishings are great too, and the prices are fantastic. 
For tops, most slim MSD stretchy things will fit. Ball Jointed Soulmates  has a lot of really cute ones.