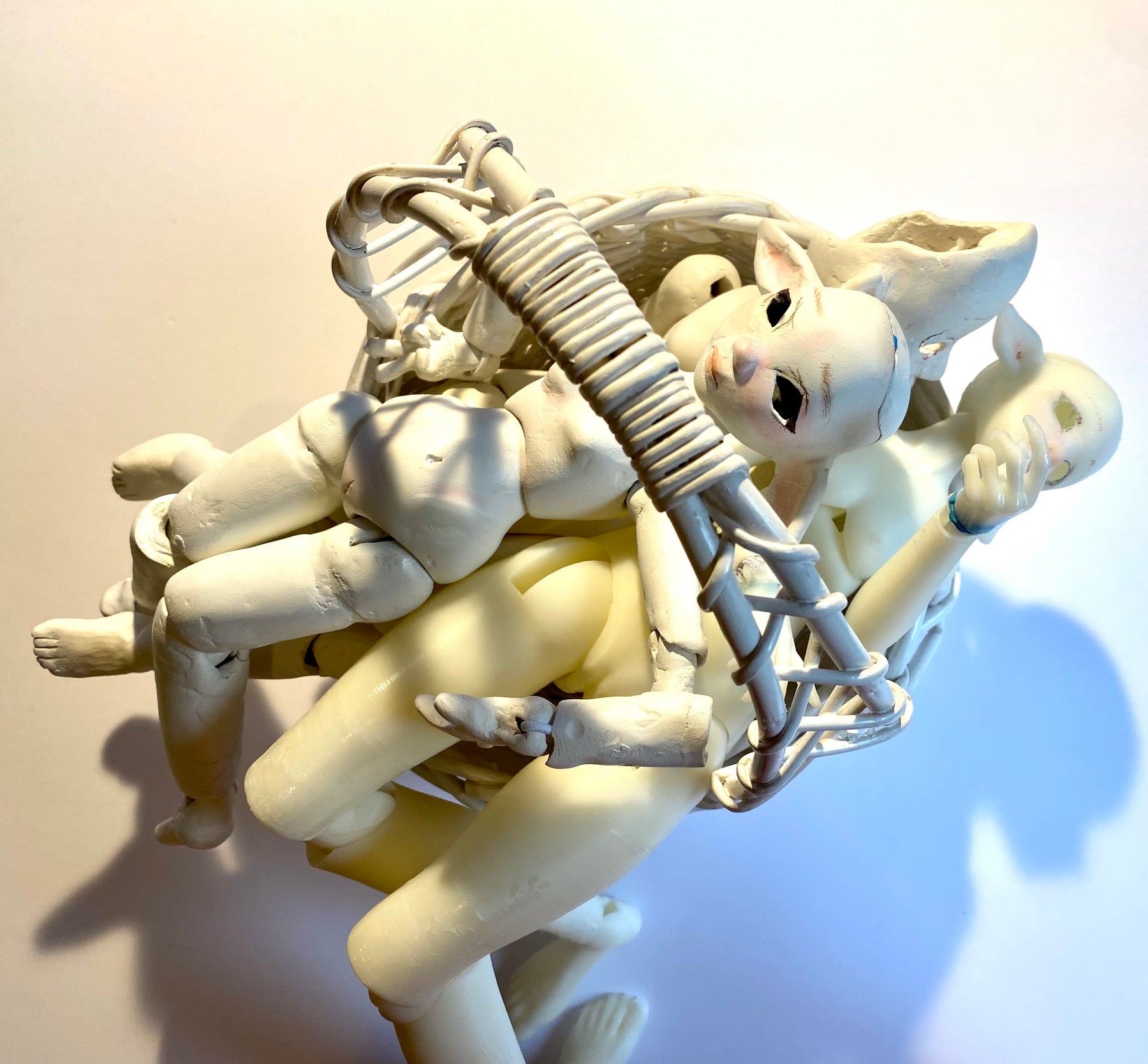 Let's Talk about Hollow's First Versions!
 The first time I sat down to sculpt was way back when I first joined the hobby.
I started with Ob11 heads. I probably made about 5 different tiny doll heads before moving on to an art doll I have lovingly named the Kevins. I made the first Kevin in the summer of 2020, at camp on a rainy afternoon. He was pasty and white and made of paper clay.  
The Kevins, believe it or not, were the original Hollow. The kind I could actually make with my skillset at the time. 
In September that year, shorty after getting home from Camp, I decided to bring Kevin/Hollow into their next form- an actual BJD! I documented this process on Youtube, and eventually came out with an elf eared, sweet eyed friend. 
Hollow V1 was not where I wanted her to be. I didn't like her faceplate, her anatomy was all wonky, and she lacked the thickness and sturdiness I really wanted her to have. 
so, I tried again! A few months later, and using a blueprint this time, I went to work on the chubby elf. This time I upgraded to LaDoll Paper Clay, which is a lot more expensive, but really nice to work with. The head was a wash- I was focusing in on the jointing and the body. This is where we ended up: 
I was a lot happier with the torso here. You can see it's a lot closer to Hollow's finished version. It posed the way I wanted to, and had the right shape. also, hollows V1 head suited it really well. The legs were... well. Let's not talk about the legs. 
Around this time, I was becoming friends with more doll artists on Instagram, and learned a lot about 3D sculpting and the pros from them. The idea that if your doll broke, you would have a back up to print again was HUGE. As well, symmetry is very difficult and I knew 3D sculpting would help me make sure my doll was stable and symmetrical. 
...But I needed help. I reached out to a digital sculptor on Instagram and sent them my current doll versions, my reference and drawings, blueprints for Hollow, and we collaborated on Hollow's base mesh. I learned a lot from her, and was able to practice on the files myself until eventually I could make the modifications I needed. 
She printed a plastic prototype for me, since I don't have my own 3D printer. So Hollow 3.0 came and was assembled. 
There were quite a few fixes from here. She was too tall, her head and eyes too small. The eye wells needed work, as did the wrist joints. I also had to fix the back of the leg pieces, and smooth her out. 
Around this time, I found someone in the USA to help me print her in resin. I picked my colors and worked out the final details. Then she was ready to print!
And that's where we are today. I love her current form so much. She is exactly how I pictured her. It took nearly a year to bring her to life, and literal blood sweat and tears (dremels are dangerous!)
Thanks for reading! I hope you found this interesting! Let me know if you have any questions down below!