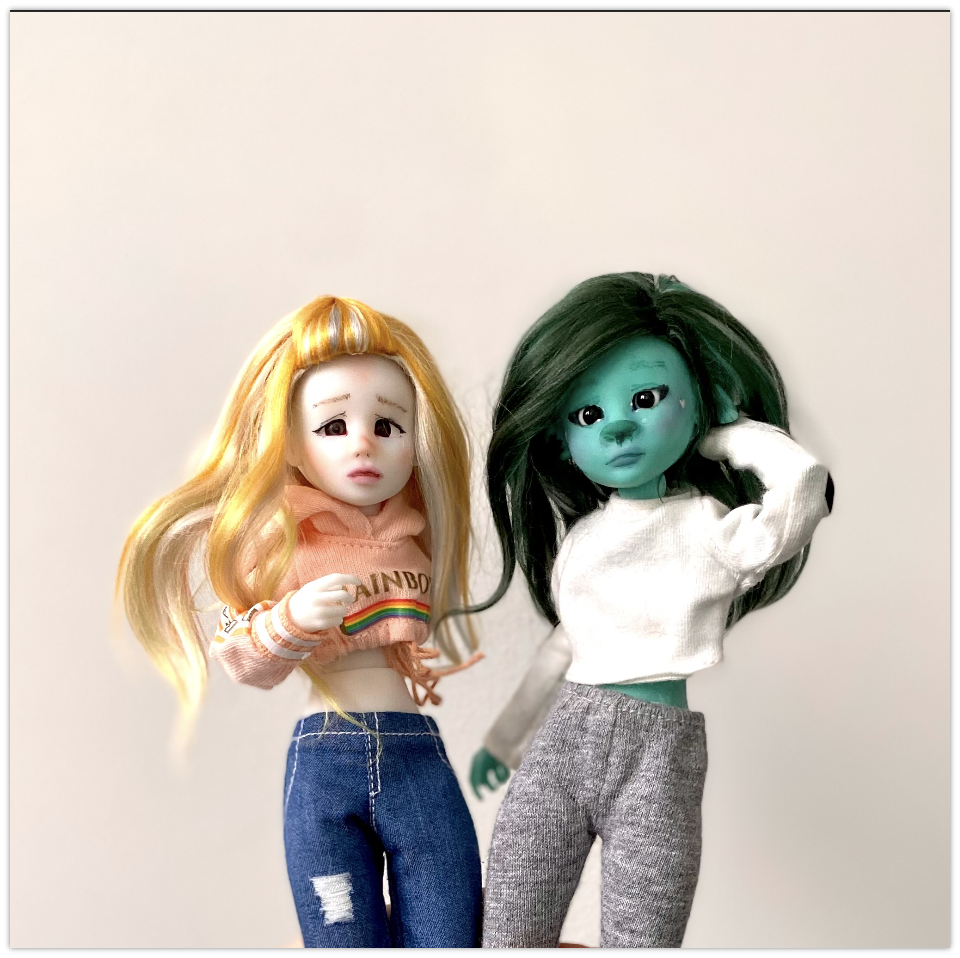 Teeny Tinies Launching Feb 1st! Affordable Mini BJDs and Kits
Today we're talking about my minis line, the Teeny Tinies! It's official, I am launching a line of mini dolls on Feb 1st! 
These are 25 cm tall, 3D printed BJDs with 19 points of articulation. The resin is high-grade photopolymer resin. 
I am naming the dolls in alphabetical order. I think this is fun and makes tracking the order easier. 
The first Dolls in this line are Arya and Bowie, who both fit on the slim Teeny Tinkers body. 
Arya is a human girl, with a signature expression. The eye shape works well with worried, sad, and sleepy looks. She will be available in Creamy white and Peachy Tan. 
Bowie is the first Fantasy girl in the line. She has a soft, wide nose, gentle eyes and fantasy ears, which remind me of a kitten. She will be available in Spearmint and Bubblegum. 
They are perfectly pocket-sized and wear rainbow high, blythe, createable world clothes well. They also fit smaller barbie stuff, and Ken Doll shoes. 
They wear 6mm eyes, but 8mm work too. 3-4 or very small 4-5 inch wigs fit, or 10-11 cm. 
You can buy the dolls either assembled or as a Kit. In both cases, the dolls come with a box and COA. There are some differences for the rest of the package, of course. 
ASSEMBLED: The doll will come fully sanded, assembled with magnets, hook and elastics. The doll will also come with default glass eyes. Assemled dolls will be $200 USD each. 
KIT: will come cleaned and cured, wrapped up. There will be a baggie with Elastics, Magnet and Hook. There will also be a COA, though the 'assembled by' field will have a strikethrough instead of my initials.  There are no eyes included. The kits are $125 each. 
This is a quantity-limited pre-order product. I will be making each doll by hand, so there are only a few of each doll available. These sculpts will likely not be made again.
The dolls will take me up to 2 months to complete from the time of your order. This means it could be ready to ship a week after your order, four weeks after, or up to two months. The longer time frames cover add on services. 
Add-ons services like blushing and faceup options are available in the Minis Extras collection. They will be simple, as the dolls are quite small. Faceups at just $25 and Body Blushing at $15. There are no lashes in the faceups, as the eyes are so small. 
You can also choose extra services to add to your doll. 
I can offer Basic body blushing for $15 per doll and basic face ups (simple) for $25.
You can only add these to assembled dolls, not kits, as pieces need to be sanded before applying pastels and paint. 
Let's talk financing. I offer layaway with my bigger dolls, but Because these dolls cost as little as $125, and can be ready to ship anytime from 1 week, I will not be offering layaway on them. But if your order is over $300, we can chat about doing a PayPal Layaway.